CBD for Pets
Pet care is incredibly important. Those of us who have been lucky enough to have had pets since childhood had this drummed into us by our parents. A pet is for life, and the pet's life has value, even purpose. 
Grooming, feeding, exercise, bathing and providing a place the animal considers home is essential. However, as pet health has become more understood, mental health issues and conditions in pets have become more apparent and are becoming something that pet owners are increasingly aware of.
Because of these pet issues, new treatments and medications have been developed to help treat these pet issues. One such treatment is CBD oil, an alternative to traditional pet medication that has multiple benefits. 
Please read on to learn what CBD can do for your pet if it's safe, what forms it comes in and more!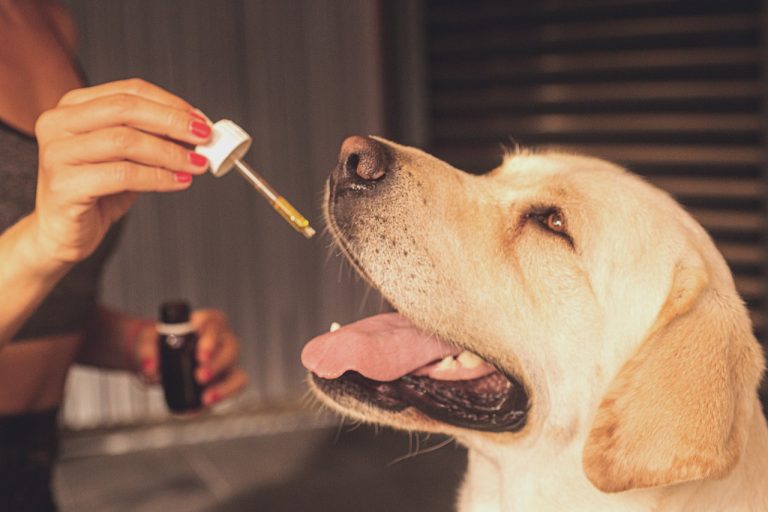 Cannabidiol (CBD) is growing to be one of the most popular health supplements in the world right now. People commonly use it for relieving pain & anxiety and losing weight.
With the legalisation of CBD oil spreading through governing bodies worldwide, its potential for pet health has also gained plenty of attention. 
There are a number of differences between CBD for pets and CBD for humans. The strength of the CBD oil will depending on whether it is for humans or animals,  and CBD oil for pets often have unique flavourings, so that they can enjoy it and take it more willingly. 
Finally, CBD oil for pets doesn't contain any psychoactive THC. Psychoactive THC is removed completely from CBD for pets because it's entirely toxic for them.
You can also get unique CBD pet products, such as CBD dog chews, but most CBD products are broadly similar to human CBD products.
CBD Oil for Dogs and Cats
The truth is, hemp-derived CBD products for pets have actually been around for many years but are more popular now than ever because of the numerous benefits they offer. CBD products can assist dogs and cats in various helpful ways, including reducing anxiety, minimising seizures, reducing pain and more. 
Controlling anxiety is one of the most important uses of pet CBD. Both cats and dogs' anxiety may manifest in various behavioural issues. 
Dog anxiety symptoms include aggression, panting, depression, pacing, urinating, barking more often, defecation and more. Cat anxiety symptoms include not using the litter tray, scratching you, vomiting, excessive mood changes, and more.
CBD oil combats pet anxiety by increasing serotonin levels and targeting receptors in their brains, raising their mood and reducing the likelihood of anxiety attacks. More research still needs to be done to determine the full effects of CBD oil on pet anxiety, specifically its impact on individual symptoms. 
However, the results have been promising so far, as shown in this 2018 study, which shows that over 70% of owners included in the study said that CBD is better or equivalent to conventional medication for treating dog anxiety.
Seizures disrupt the brain, which causes changes in movement, behaviour and feelings. Seizures can be especially dangerous for epileptic pets but can also affect healthy pets.
For dogs especially, seizure disorders can be very damaging. Seizures can cause fear in dogs, stop their movements, and potentially leave them with brain damage.
CBD treatment can help with dog seizures. It can reduce the seizure size and reduce the number of times dogs will experience them. In most cases, very few side effects will be present.
Research into how CBD oil combats the direct effects of pet seizures is currently limited. However, the results of existing studies into CBD oil and pet seizures have been very promising.
Older age brings on a number of disorders in our much-loved pets, such as arthritic and joint pain, leading to other ailments common to humans such as insomnia. 
Pets can also experience inflammatory pain that can permanently damage their body. For example, dogs can get Osteoarthritis, which can deteriorate their cartilage. Once this happens, the joints are left more vulnerable, and a dog can experience pain more frequently.
For Osteoarthritis and other forms of pain like joint pain or back pain, CBD is an anti-inflammatory that can assist by numbing the pain receptors in your pet's brain. CBD oil won't remove the pain entirely; however, it will dull it significantly.
CBD creams are helpful if your pet is experiencing pain in a specific area. Applying CBD cream to the painful area will concentrate the CBD's effects.
Pets can experience insomnia in the same way as humans. Insomnia makes it hard for your pet to get to sleep, maintain sleep, and will often make them wake up very early. In addition, insomnia can make dogs and cats very irritable and potentially aggressive.
Pet insomnia can be caused by anxiety, joint pain, skin conditions and more.
In most cases, pet insomnia will only last a few days (transient insomnia). However, some cases can last a few weeks (acute insomnia) or much longer (chronic insomnia). 
Giving CBD oil to your pet is an effective alternative to traditional medication. It's an anti-inflammatory that soothes pain and also affects serotonin levels to minimise anxiety attacks. CBD cream applied to a skin condition can also numb the pain. Once these problems have been solved, the pet will sleep better and sudden wake-ups will be less frequent. 
Although CBD oil is the best solution for pet insomnia, CBD cream can also be effective.
Other Benefits Of CBD For Pets
A few other elements will benefit your dog or cat if you give them CBD oil. Some of these elements include:
Support to their immune system: can help reduce cancer-related pain and pain caused by autoimmune disease.

Support to their nervous system: Can reduce the symptoms of neuropathic pain and other illnesses that affect the nervous system. 

CBD Oil for pets has anti-inflammatory properties that can alleviate the effects of heart pain and heart failure (although it isn't a cure for heart failure). In addition, CBD can reduce your pet's blood pressure and decrease their cholesterol.

CBD oil is fantastic for your pet's digestive health. It can prevent them from having a leaky gut and improve their digestion.
Are CBD Products Safe for Pets?
CBD oil can help your pet regain its internal balance in much the same way humans need to. CBD for pets, especially cats and dogs, is safe provided you stick to the correct dosage given by a veterinarian. 
Before giving CBD to your pet, you should also consider any other medication you may be giving to your pet, as this could cause complications. CBD can interfere with medications, including calcium channel blockers, cyclosporine, antihistamines, benzodiazepines, and more.
Are There Any Side Effects Of CBD Pet Products?
Despite the vast array of benefits CBD can provide to your dog or cat, it does come with a few side effects. However, these side effects are fortunately mild and don't occur very often.
The side effects of CBD for pets include:
They might get a dry mouth.

Diarrhea.

Drowsiness.
Your pet won't get the "high" associated with certain full-spectrum CBD products because CBD for pets contains no THC (the part of the cannabis sativa plant that has psychoactive effects).
THC from psychoactive cannabis plant components is highly toxic for pets; you must not give it to your pet under any circumstances. 
Companies test CBD products for pets before selling to check if there are any levels of THC in them. If it contains psychoactive THC, they won't approve it. Similarly, any prescribed CBD products will need to be checked by a veterinarian to see if they contain psychoactive THC. 
If the hemp plant components used for CBD oil are not psychoactive, there will be no THC content and therefore the CBD oil will not be harmful to pets.
Which CBD Product Is Best For Pets?
The three types of CBD oil are full-spectrum CBD, broad-spectrum CBD, and CBD isolate. Full-spectrum and broad spectrum products have both CBD and THC, and CBD isolate has no THC.
The cannabis plants used for CBD are not psychoactive, so the THC in them is not harmful to pets, which means that both broad spectrum and full spectrum CBD products are safe for pets. Because the CBD market isn't fully regulated yet, it's still best to check that the CBD product you buy your pet doesn't contain toxic psychoactive THC.
Despite the other types being okay for pet consumption, CBD isolate is still the best CBD for pets, as its effects are the most concentrated.
The Forms Of CBD Pets Products
As with human CBD products, CBD for pets comes in different forms. Primarily, pet CBD products come in an oil that can easily mix with food. CBD oil is a popular form of dog CBD (and it can be used for cats as well).
A CBD pet product can come in a gel capsule form that your pet can eat out of your hand or that can be mixed inside food; these generally have added flavouring for the pet to consume. You can also get CBD treats.
There are many other foods you can get for your dog or cat that contain CBD. Some of these foods include CBD kibbles and CBD honey.
There are also pet shampoos that contain CBD, which are becoming popular. Additionally, many CBD pet creams, ointments, balms, and lotions are available. These are fantastic after bathing your pet or before they go to bed.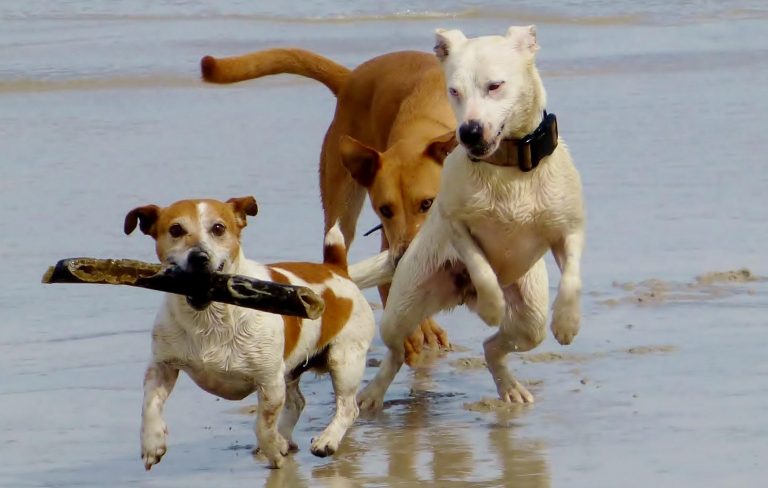 Overall, CBD for pets is safe and easily accessible. Research into CBD is still relatively new. However, the tests conducted are all very positive. But it is always recommended to get an expert opinion from a veterinarian before simply giving CBD to your cat or dog.
Your veterinarian can give you CBD to provide your pet with various health benefits and reduce nasty pains and illnesses. There are multiple types and forms to consider. For example, if your dog doesn't like consuming CBD, you can try a CBD shampoo or cream to rub onto their body.
The most important thing to consider is the dosage of CBD, as is often the case with humans. 
Don't expect instant results. You must allow the CBD to absorb into the system before the effects will become noticeable – so even if it doesn't appear to be working yet, be patient and avoid increasing the CBD dosage. Always stick to the recommended dosages for your pet.
Frequently Asked Questions
Will CBD Make My Pet High?
Getting your pet high isn't a CBD side effect. To get your pet high, CBD would need to contain psychoactive THC. However, CBD products available for pets remove THC completely as it is toxic to most animals.
It's best to get your veterinarian to provide medical advice on whether the prescription has any THC in it so that they can give you safety details.
Will CBD Make My Pet Sleep?
Various animals can get insomnia that prevents them from sleeping properly and causes sudden wake-ups.
CBD can cause sleepiness in dogs and cats and prevent them from suddenly waking up. It numbs and calms them so they can sleep better. Higher doses can work for larger dogs, but you need to ensure your dosage is correct.
What CBD Dosage Should I Give My Pet?
The easiest way to work out correct dosages is by working out your pet's body weight. For example, If the body weight is around 10 pounds, a small dose is 1mg, a regular dose is 3x (3mg), and a large dose is 5x (5mg).
For every added ten pounds, you add one more mg, so for a 100-pound dog a small dose would be 10mg, a regular dose would be 30mg, and a large dose would be 50mg.
Which Is Better For My Pet, Hemp Oil Or CBD Oil?
You can use CBD oil to solve several problems with your pet, including preventing seizures, lowering pains, including joint pain, improving sleep, and more.
Whilst hemp oil isn't a replacement for CBD, it does offer additional benefits. The main benefit is its nutritious value. It contains multiple vitamins that will keep your dog or cat healthy.
Is Human CBD The Same As CBD For Pets?
The simple answer is yes – CBD oil is CBD oil. Its varying strengths distinguish one product from another, but both human CBD products and CBD for pets are broadly the same. The main difference is the types of CBD products available for humans and pets. 
CBD for humans can be full-spectrum (contain all cannabis compounds including THC), broad-spectrum (contain all cannabis compounds other than THC), or CBD isolate (pure CBD with no other cannabis compounds). CBD for pets, meanwhile, is typically either broad-spectrum or CBD isolate, since THC is toxic to most animals.
Additionally, some CBD oils for pets add some flavouring to make it more palatable for pets, so if you do end up taking your pet's CBD, you might be in for a slight shock – but it won't kill you!

Dr Ron Goedeke, specialises in alternative and functional medicine. He is a foundation member of the New Zealand college of Appearance medicine and has been a member of the American Academy of Anti-aging medicine since 1999. With over 20 years of experience in the anti-aging field, Dr Ron Goedeke is recognized as one of New Zealand's leaders in this new and growing field of medicine.